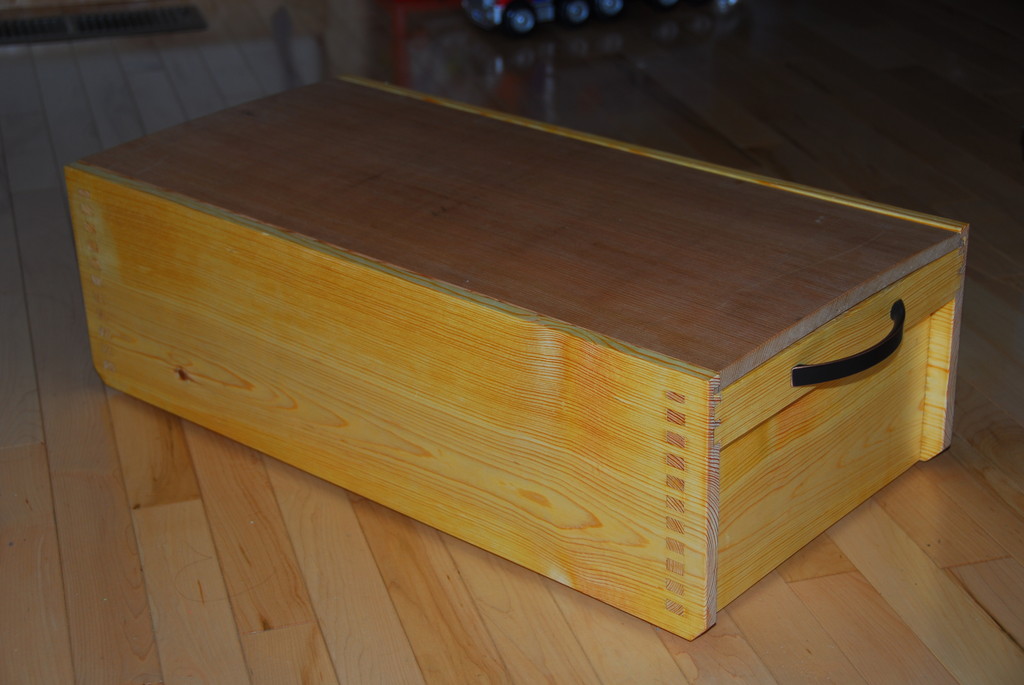 Build date: 2008/07/05
Dimension: 27×13.5×8″
Materials: Southern Yellow Pine, old growth red cedar (top, bottom), cocobolo (knobs), brushed steel handles (From Home Depot, Wife's idea)
I had wanted a large traveling tool box for storing the hand tools to bring to my weekend woodworking class. On that premise, I created this box. Unfortunately it's too bulky and as such is quite unwieldy. I tried various portability tests like carrying the box from my garage shop to the family room, back and forth, and I kept bumping it against things. I made a quick mock-up prior to the actual build and the size seemed right at the time. Sometimes the issues don't become obvious until the actual application. Fortunately, my wife likes the box a lot, so I gave it to her to store her yoga stuff. She wanted pull knobs for the lid so I carved them out of cocobolo. She also picked out the brushed steel handles from Home Depot.
The box has quite a bit of joinery, mostly mortise and tenon, which took me several weekends to complete. The design was inspired by Nishiyama-san, a member of the Kezurou-Kai group. I saw his toolbox at the 2007 Timber Framers Guild Western Conference. See photos here:
See also: